Vietnam 2019 - Tour in Vietnam from Hanoi to Ho Chi Minh city (Saigon).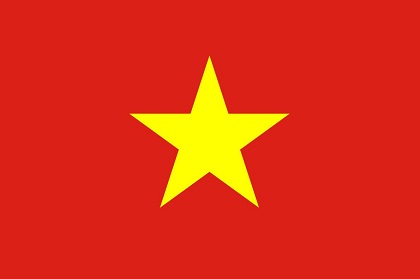 In January/february 2019 we have had a orgenized tour through Vietnam. See the route map below.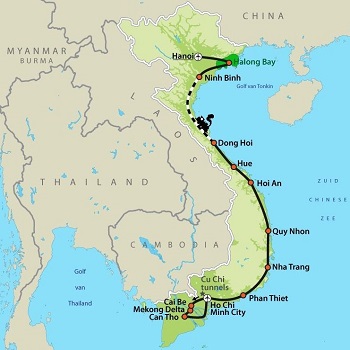 With snow we left from our home via Amsterdam to Dubai in the United Arab Emirates. We flew with Emirates in an A380 but we first received an anti-ice treatment before our departure. We arrived after the next flight in Hanoi in Vietnam. It was very busy at the airport with lots of people i.v.m. the TET party, the Vietnamese new year. They had very large packages that served as gifts. A short bus ride from the airport and then we arrived at our hotel.
The next day we went for a walk looking for a payment terminal. We drove to Hoan Kiem Lake with a number of taxis and visited a temple there. The Turtle Tower stood in the middle of the lake. We walked around the lake and visited a water puppet show there. After dinner walked back over the evening market to our hotel.
After breakfast we visited the Ho Chi Ming mausoleum. Was accompanied by a lot of security. Then visited Hanoi Hilton, the French prison. Both used during the Vietnam war.
The next day was Vietnamese New Year's Eve and we went on a boat in Halong Bay for a day and a night. Nice boat very good food and a great cabin. The next morning, because of New Year's Day, we received a red envelope from the purser containing a sum of 10,000 Dong.
After we disembarked we visited a temple. It was very busy there. After our last night in Hanoi we went on to a temple complex with excavations. We also cycled a bit and sailed with a small 2-person boat through a beautiful mountain area, the Kars rocks. After dinner we went to the night train. We had a 4 person sleeping cabin with another couple of nice people.
Today early to our next hotel. We have visited the caves of Phong Nha by boat. First 1.5 kilometers into the cave and then a walk. Was a very beautiful cave.
The day after was a busy day. In Hue with a dragon boat to a pagoda and temple, with the bus to the Citadel with the forbidden city. We were still bothered that the TET party was still going on and so many lunch restaurants were closed. In the afternoon a (a kind of Rickshaw) Cyclo tour made through the old city. Finally visited the tomb of the 4th emperor Tu Duc.
The next day we drove over the cloud pass, Hai Van, to Da Nang. Then we went to the Cham museum and we made lanterns. Da Nang also has a beautiful Dragon bridge.
Continue to Hoi An the next morning. We walked through the city there, visited a market and in the afternoon we relaxed by the pool. The next morning we went by bike to the An Bang stand. The bike is parked for free at a small restaurant. Sea was very rough. On the way back we rode the Cua Dai Beach. We bought tasty sandwiches for lunch at a bakery. Walked through the old town after lunch. Was very special because it was a pedestrian area.
The day after we had a long journey. We stopped in My Lai, where the Americans committed a massacre in March 1968 during the Vietnam War. Read more about this on the link: Massacre of My Lai - March 16, 1968.
With the bus further to Quy Nhon, where we have visited a Cham tower. The next two days were quiet days. Walked a bit about the stand, visited a local market and what was on the beach.
After these beach days we continued on the highway to Saigon (Ho Chi Minh city). We arrived at our city hotel with the name Vien Dong. It was on a beautiful park where we often sat on a bench. This was the 23 September park. Often towards the evening we would look at the local youth. It happened several times that we were approached by a student who heard us about Europe and the Netherlands. We discovered that there were no prisons in the Netherlands.
From Saigon we visited the Cu Chi tunnels. First we got to see Vietnamese propaganda film and a nice model of the diameter of the tunnels. There were sometimes three to four levels. All traps to prevent the enemy from entering the tunnels were shown and explained. Finally, we walked through some tunnel sections. Fortunately, they were made a little more spacious so that the larger European could easily walk into it.
Then we went to the Cao Dai temple, where we also did a church service. This is the faith community of the Eye.
The next day we went by bus to a factory where bricks are made. Unfortunately, no oven was in use. Seen a lot of stones and an oven. From this factory we went by boat to a factory where coconuts were processed. We also saw how straw mats are made. We then went by bike to our lunch restaurant, where we had a delicious dinner. After lunch we took a boat to our bus again. We then drove to Can Tho. Nice city with terraces on a boulevard.
We went by boat to a floating market in Can Tho. On the fixed market in Can Tho we have bought another pig. After a long bus trip we arrived in Saigon again. Enjoyed a farewell dinner with the whole group at Don Long.
On our last day we made a walk through Saigon. City hall viewed. Eaten burger for lunch, and bought the last souvenirs. We had another conversation with a student in the park. After dinner we were taken to the airport for our return flight. We were picked up at Schiphol by one of our children.
Pictures of our tour in Vietnam, in 2019.
Click on a picture to see a bigger image.