Download free ESXi - How to Download and get a License Keys.
First go to this site: VMware Evaluations.

Login or register here: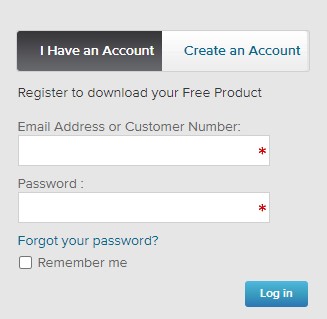 Once you have succeeded to login, you get a page where you can copy your license (not shown) and download ESXi.
See the example below: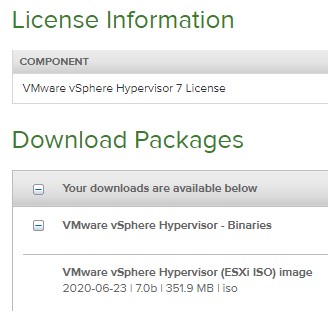 To install ESXi on a server, you must copy the ISO to a USB flash drive or SD card. Use "Create bootable USB" to do this.
If you already did install ESXi on your server, you can update is using the ISO or to use a offline Depot bundle.
Booting from the ISO gives you to posiblilty to Upgrade a already installed server. This is an offline upgrade.
If you copy your online zip image to a data store first (Datastore-ISO/VMware in my case), you can upgrade your ESXi server.
That can be done with this command (example is from a HP server using the HPE customized zip file):

[root@esxi-server:~] esxcli software profile update -p HPE-Custom-AddOn_701.0.0.10.6.3-9 -d /vmfs/volumes/Datastore-ISO/VMware/VMware-ESXi-7.0.1-17325551-HPE-701.0.0.10.6.3.9-Jan2021-depot.zip --no-hardware-warning

The Profile parameter (-p) can be found as follows.
The profile name can be retrieved from the zip file HPE-Custom-AddOn_701.0.0.10.6.0-40-2814791807521301910 at:
metadata.zip\profiles and than on this line (<imageprofile><name>...):
<imageprofile><name>HPE-Custom-AddOn_701.0.0.10.6.3-9</name><creator>Hewlett Packard Enterprise</creator>
The license code, if needed, can be inserted after login in the running VMware ESXi server.
A suitable server you can use is a DL380-G7 from HP or a similar Dell server. My server has 48GB memory, 2 Sockets with each 4 CPUs and 3 TB disk storage.
On Ebay, and other sites, you can find cheap HP ProLiant DL380 servers or a Dell PowerEdge R720 servers.
HPE ESXi images can be found here: HPE VMware images, or at Dell customized ESXi images
See also the "Old CPU solution for ESXi" article.