Holiday USA "Coast to Coast" 2009.
Story about a Coast to Coast holiday in the USA.
This story will describe our Holiday to the USA from airport Schiphol at Amsterdam to the international airport of Newark (New York). Then we will tell you something about the first couple of days in New York and then something about the Coast to Coast that we did after New York.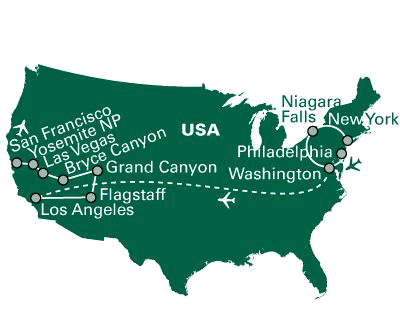 Travel schema by bus:
Dag 1 Amsterdam -> Newark -> New York City
Dag 2 New York City
Dag 3 New York City -> Buffalo
Dag 4 Niagara Falls
Dag 5 Buffalo -> Washington, D.C.
Dag 6 Washington, D.C.
Dag 7 Washington, D.C. -> Philadelphia
Dag 8 Philadelphia -> Los Angeles (by plane)
Dag 9 Los Angeles
Dag 10 Los Angeles -> Laughlin
Dag 11 Laughlin -> Flagstaff
Dag 12 Flagstaff -> Bryce N.P.
Dag 13 Bryce -> Las Vegas
Dag 14 Red Rock Canyon en Las Vegas
Dag 15 Las Vegas -> Fresno
Dag 16 Fresno -> Yosemite N.P. -> San Francisco/Oakland
Dag 17 San Francisco
Dag 18 San Francisco
Dag 19 San Francisco/Oakland -> to the Airport
Dag 20 San Francisco -> Houston -> Amsterdam
We did leave at Monday morning at 09:15 (local time) from Schiphol (in the Netherlands), and we did arrive at 11:40 (local time). The duration of the flight was about 8 1/2 hour. The flight with Continental was very quiet and we could enjoy from a hot meal and some drinks. During the flight over the Atlantic Ocean we all did manage to get some sleep. When we did arrive at the airport of Newark, we did discover that we did missing 2 persons, but afterwards it did come out that they where hold by the customs to answer some extra questions about their passport. After a 30 minutes taxi ride, we did arrive at our hotel in Englewood. We did use the same afternoon to visit New York. With the bus it was about 30 minutes to get at the central bus station.
New York is a great city. Our first impression was very great and very crowdie. We did book 3 extra days to spend in New York. We did visit the following in New York: Ground Zero, Empire State Building, Times Square, Wall street, China Town, Staten Island, Statue of Liberty, Brooklyn and a lot more.
After three days in New York, we did start with our actual holiday schema. We did travel by bus from New York to Buffalo, where the Niagara Falls are. These falls are enormous. It are actually 2 falls, the American Fall and the Horseshoe fall. We did encounter de falls very close by boat, called the "Maid of the Mist", but as the name of the boat tells us, we did get very wet during this boat trip.
After this we did drive by bus to Washington DC, the capital of the United States of America. Every morning, when we did start the bus tour, the chauffeur did always play the music: "On the Road Again". Here we did visit or pass the Capitol, the White House, Washington Monument, Lincoln Memorial , the Arlington National Cemetery, where we did stand still at the grave of John F. Kennedy and Jacqueline Kennedy. In the afternoon we did visit a Smithsonian museum.
The next day we did drive by bus to Philadelphia. This is the city where the United States Declaration of Independence was born. Here you can also find the original Liberty Bell. We did make a nice walk through a market, where we did see some Amish people selling their products. We did also walk to a part of the city that looks very similar to some streets and houses as in the Netherlands.
From Philadelphia we went back to New York to fly from the airport Newark to Los Angeles. This was again a very nice flight. We were very Lucky to see the Grant Canyon.
In Los Angeles we did visit Hollywood with the Walk of Fame, Grauman's Chinese Theatre, Universal Studio's and at the end of the day to Venice Beach, at the Pacific Ocean.
From there we did drive through the dessert towards Bryce. We did visit the following National Parks (NP), Mohave Dessert, Joshua Tree NP, Yosemite NP, Red Rock Canyon NP, Grant Canyon NP, Zion NP and Bryce NP.
After the National Parks we did drive to Las Vegas. We did arrive there at noon and we did drive by bus over the Strip. That was very impressive. There was very to see and to do. Also if you don't like gambling, you can certainly entertain yourself here in Vegas, with its very impressive Hotels with gigantic shows. The Italian part of the strip (Caesars Palace) contains an enormous shopping mall, called Caesars Forum. Here you do not eyes enough to see how parts of Rome are rebuild here as exact copies. We did also enjoy a fantastic fountain that did work on the rhythm of the Music.
From Las Vegas we drove through the dessert to the Ghost town Calico, a historic silver mining town. After a few hours we did driver further to our final city, San Francisco.
First we did make a city tour. We did start at the City Centre, where the old City Hall can be found, where Marilyn Monroe did marriage with Joe DiMaggio (January 14, 1954). Then to the Painted Sisters, 7 old wooden houses nice, against the skyline of San Francisco. Then we went to Twinpeaks, where we had a fantastic view over the city and the bay. We could see clearly (no fog) the famous red Golden Gate bridge. From there we did drive through the Golden Gate park over the Golden Gate bridge, and at the other side we had a nice view towards San Francisco. Finally we did drive to Fisherman's Wharf, where we did enjoy our lunch. After the lunch we did take a boat trip though the San Francisco bay. We did go underneath the Golden Gate bridge and did pass Alcatraz Island.
The next day we did drive with the famous Cable Car. There are 4 lines in San Francisco, and you can visit for free Cable Car Museum. We also did visit the famous Flower Street, but we went also to Fishermans Warf. There you can find hundreds of Sea Lions at Pier 39. They did enjoy the sun on old docks. Finally we did go through the China Centre to the Metro station to go back to our Hotel for our last night in San Francisco.
The next morning we did leave are Hotel en drove with the bus to the airport and we did take our flight back home, with a stop in Houston, to Amsterdam. This was the end of our fantastic holiday of 20 days in the USA, seen from Coast to Coast.
Pictures of our visit to the USA 2009.
Click on a picture to see a bigger image