South Africa, bustrip from Johannesburg to Capetown
In August 2017 we made a 28-day tour through South Africa. See below the route we've followed.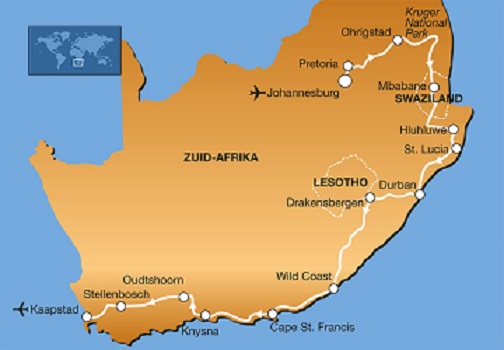 After a 11-hour flight with KLM to Johannesburg we arrived late in the evening at our hotel.
The following morning we went from Johannesburg to Soweto, the birthplace of Nelson Mandela. We visited there a monument of the uprising in 1976, which marks the beginning of the later abandoned apartheid. Also another house where Nelson Mandela had lived and visited a church. From there to Pretotia to view the statue of Nelson Mandela. Also to Voortrekkers museum to experience a first encounter of South African history. At the end of the day we went back to Johannesburg.
The next day we drove to Ohrigstad by bus. On the way we enjoyed nice coffee stops and a delicious lunch. Overnight in a small game park close at the Kruger Park.
From here we drove, the next day, to the Blyde River Canyon. There we saw a big canyon with the "Three Rondavels" highlighted. In the afternoon we had first Game Drive, where we saw Impala's and Buffalo, the first of the "Big Five".
The Big Five consists of:
African Elephant.
Black Rhinoceros.
Cape Buffalo.
African Lion.
African Leopard.
The next day we passed God's Windows, which would give a great and wide view if it was not cloudy. We ended this day again in Hanah's Lodge near the Kruger Park.
Get up early (06:00) today for a big game drive through the Kruger Park. Here we saw Lions, Elephants, Impala's, Rhino (Far), Zebra, Giraffe, Kudu, Monkeys and many birds. So we did see 4 animals of the Big Five.
Next morning we drove to Swaziland. On the way a we did visite a glass factory and we did overnight in a typical Swaziland hut, a "BeeHive" in Mliwane Wildlife Sanctury. It was already dark when we arrived. The next morning we just saw what and we were we did staying at.
The next day we went to a cultural village where we learned how the people of Swaziland used to live. We could watch a waterfall here and after the afternoon we had a Swaziland dance and singing performance.
The next day we visited a candle factory and a market. We ended this day in Zululand, in park Hluhluwe.
We had to get up early because we got a Game Drive but now through the Hluhluwe park. We saw a rhino with young and later at lunch there was an elephant watching. When we went back after lunch we saw another big herd of buffalo.
When we left the next morning we had to stop by bus because two Giraffes (Mother with Young) walked on the road. Via a local market to the lake at St. Lucia for a boat trip. There we saw many hippos in the water and on the side.
After sleep, we went to the beach to swim in the Indian Ocean. But there was a lot of wind and it seemed that we were squealed. In the afternoon, we did not do much, except sitting arround the hotel's swimming pool.
Up to Durban for a city tour. There we visited an Indian market. We also visited the VOC Botanical Garden and the Mandela Museum. Lunch at the Falls in Howick. Evening dinner was at Japin Palace, at a table with sea view.
Today, with a Four Wheel drive, the Sanipas forced. This pass lies in the Drakensberg massive. On the way up, but also above, beautiful views. Here we visited Lesotho for an explanation in an original cabin. Here we have local bread tasted.
Early departed for a trip from Zulu Natal to Transkei to the WildCoast. We arrived just before dinner.
Today an easy going day because some huts were broken and clothes were stolen. Take a stroll along the beach.
Today we left for lunch in Port Alfred. Eventually arrived at an old hotel early in the afternoon in Port Elisabeth.
Hence, visited the Aldo Elephant park. Olifant mother with a 1 month old boy. On the way back, stopped at a farm shop (padstal). A nice walk along the promenade and eaten in the evening.
The next morning the Pyramid and big flagmast visited, but the flag was not yet to be hoisted. Lunch at the coast where we also saw a whale. Overnight stay in Tsitsikamma Lodge.
Hence to Tsitsikamma Park where there was a suspension bridge over the Storm River. And again at the sea enjoyed our lunch.
In Knysna we had lunch on a boat which feed on the lagoon. After that we drove to Oudshoorn.
This was a nice place to stay. Ostrich's walked around at the Guesthouse.
The next day we had a rest day. At the end of the day we visited a Ostrichfarm. Lots of explanation about these animals and their eggs. There were many decorative objects made of it. From the skin you can make very expensive bags.
Through Hermanus to spot the whales we traveled to Cape Town this day.
The next day we visited the Table Mountain early. With the lift up and above enjoy the view over Cape Town. After that we visited Stellenbosch's wine cellars. After a wine tasting we had a culinary hike in the village, where we had a taste of different products. After that we drove back to Cape Town.
De volgende dag hadden we een stads toer door Kaapstad. We gezochten onder meer de Islamitische wijk, de Bo-Kaap en het VOC Fort. Aan het einde van de middag hebben we een bezoek gebracht aan vrienden in Kaapstad voor een Afrikaanse Braai.
On our last day we traveled to the Cape of Good Hope via Dykereiland. At the end of the day, we said goodbye to our tour guide (Joop) with a nice dinner. Then we were taken to Cape Town airport for our return flight.
Pictures of our bustrip in South Africa, in 2017.
Click on a picture to see a bigger image.